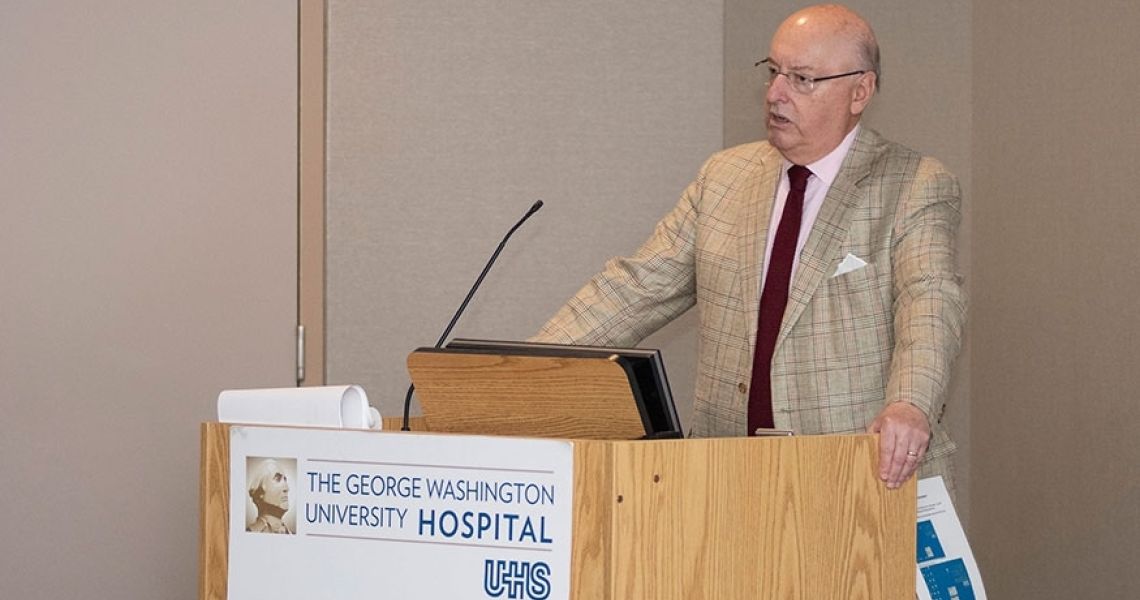 Consultation-liaison psychiatry (C&L), previously known as psychosomatic medicine, has a long history. And that history, said Thomas Wise, MD, professor of psychiatry and behavioral sciences at the George Washington University (GW) School of Medicine and Health Sciences (SMHS), is important to reflect on in order to learn how to advance the field.
Wise spoke during the Jerry M. Wiener, MD, Endowment Lecture, which is held annually to honor Wiener, who was professor, adviser, and mentor to multiple generations of GW psychiatry residents and medical students. Wiener joined GW's faculty in 1976 as a professor of psychiatry and pediatrics and chair of the department of psychiatry and behavioral sciences at Children's National Health System. He also served as chair of the SMHS Department of Psychiatry and Behavioral Sciences, a position he held until 1997.
In his talk, titled "Consultation Liaison Psychiatry: The Future by Reviewing the Past," Wise noted that the role of psychiatry "is still quite distant from the house of medicine." But he added that consultation-liaison psychiatrists were and are ambassadors of psychiatry to the rest of medicine.
However, the road to their subspecialty was a long one. In the early '90s, Wise and three others went to the American Board of Psychiatry and Neurology and asked to have C&L be recognized as a subspecialty.
Members asked questions including: Don't all psychiatrists do consultations? And what about other specialties? Did they have consultations? In the end, Wise and his colleagues were turned down.
"Ten years later, we went back and asked for subspecification again," Wise told the crowd in the GW Hospital Auditorium. This time, he said, the board decided to approve the request.
However, the next hurdle was the name: psychosomatic medicine. "It was hurting us recruiting fellows, it sounds too 'hocus pocus,' if you will," Wise said.
Finally, just months ago, the name was officially changed by the American Board of Psychiatry and Neurology, and the subspecialty is now Consultation-Liaison Psychiatry. It's a good path toward the future, Wise said, one paved by the champions of modern consolation-liaison psychiatry, including James Eaton, MD, clinical professor of psychiatry and behavioral sciences at SMHS.
Eaton's main interest, Wise said, was developing education programs for consultation-liaison psychiatrists, and he "exponentially increased the number of consultants, so modern C&L is based to some degree on Eaton's work. The faculty around the country are generally due to Jim's direction."
Wise also spoke about Edward Billings, MD, of the University of Colorado, who in the mid-1930s first used the term "liaison psychiatry," with liaison in Latin meaning linked. Billings used the term because the Colorado Psychopathic Hospital was linked, staffing wise, to the main hospital. Psychiatric residents would "walk across a patio [from one building to the other] to do consults, and that was where liaison first was used," Wise noted.
He went on to say that looking at both the past and present, "it's clear anyone going into consultation-liaison psychiatry is going to have a fascinating career … and if we don't support it, psychiatry will continue to be separate and unequal in medicine as a profession."